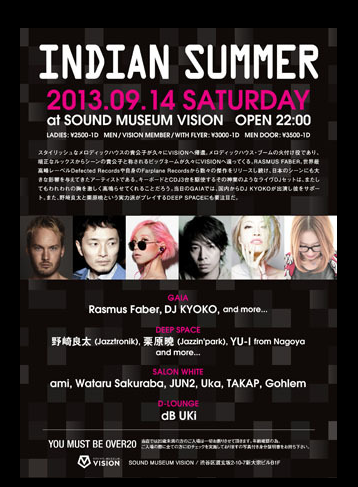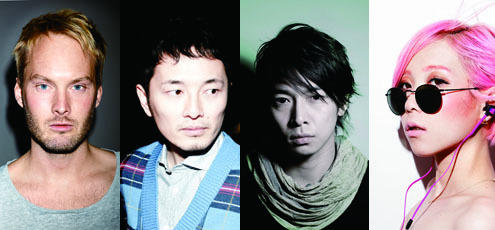 09.14.2013 SATURDAY
Indian Summer
スタイリッシュなメロディックハウスの貴公子が久々にVISIONへ帰還
supported by Majesty JAPAN
OPEN 22:00
¥2500(1D) LADIES
¥3000(1D) MEN/VISION meber,WITH FLYER
¥3500(1D) MEN

YOU MUST BE OVER 20
本公演では20歳未満の方のご入場は一切お断りさせて頂きます。年齢確認の為、ご入場の際に全ての方にIDチェックを実施しておりますので、写真付き身分証明証をお持ち下さい。
メロディックハウス・ブームの火付け役であり、端正なルックスからシーンの貴公子と称されるビッグネームが久々にVISIONへ還ってくる。RASMUS FABER。世界最高峰レーベルDefected Recordsや自身のFarplane Recordsから数々の傑作をリリースし続け、日本のシーンにも大きな影響を与えてきたアーティストである。キーボードとCDJ3台を駆使するその神業のようなライヴDJセットは、またしてもわれわれの胸を激しく高鳴らせてくれることだろう。当日のGAIAでは、国内からDJ KYOKOが出演し彼をサポート。また、野崎良太と栗原暁という実力派がプレイするDEEP SPACEにも要注目だ。

The Return of Prince of Stylish, Melodic House Music.

RASMUS FABER is forerunner of melodic house boom. Because he is good looking, he is called "Prince". He is coming back to VISION. He has released many good music from Defected Records and his own Farplane Records. He has influence Japanese scene a lot. He uses keyboard and 3 CDJs and create amazing DJ set. Once again, his set will give us blissful moment. DJ KYOKO will play in GAIA to support him. Also, RYOTA NOZAKI and SATORU KURIHARA plays in DEEP SPACE.