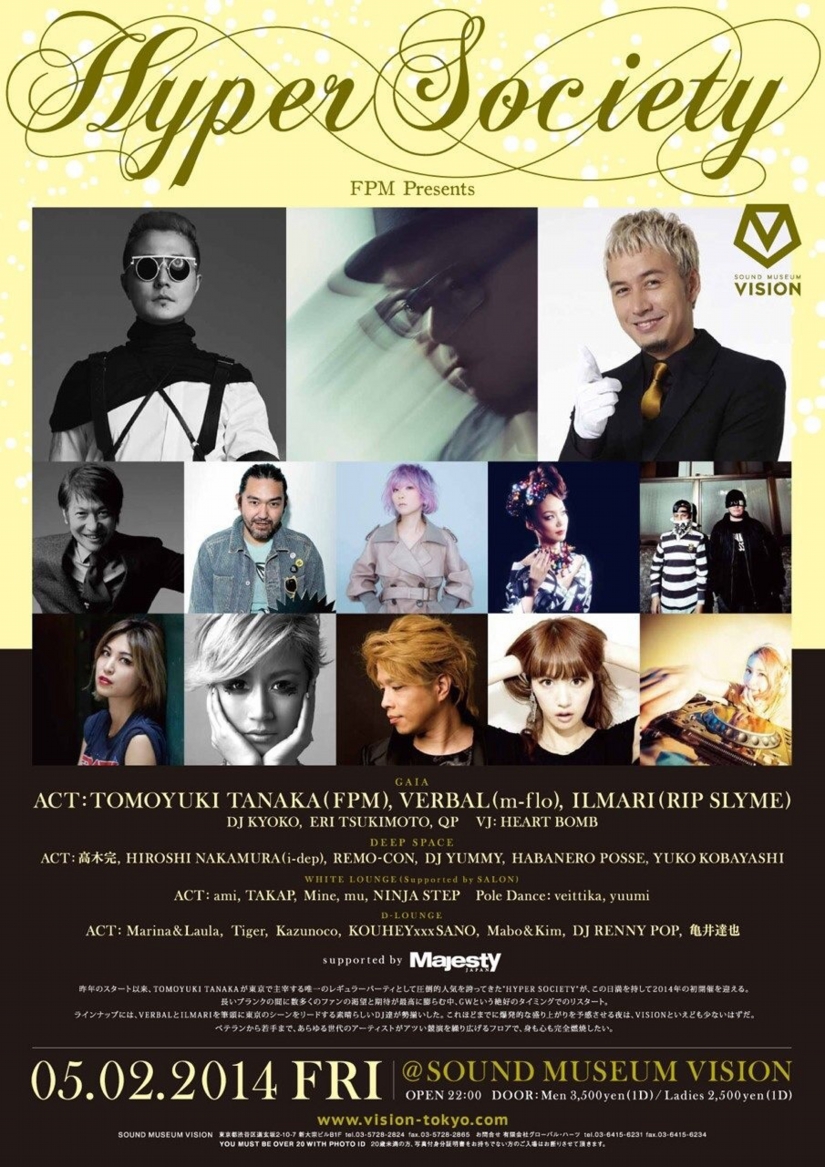 FPM presents
FPM presents HYPER SOCIETY supported by Majesty Japan
supported by Majesty JAPAN
05.02 2014 FRIDAY
¥2500(1D) LADIES
¥3500(1D) MENS
OPEN: 22:00

YOU MUST BE OVER 20
豪華アーティストが集結
昨年のスタート以来、TOMOYUKI TANAKAが東京で主宰する唯一のレギュラーパーティとして圧倒的人気を誇ってきた"HYPER SOCIETY"が、この日満を持して2014年の初開催を迎える。長いブランクの間に数多くのファンの渇望と期待が最高に膨らむ中、GWという絶好のタイミングでのリスタート。ラインアップには、VERBALとILMARIを筆頭に東京のシーンをリードする素晴らしいスターDJたちが勢ぞろいした。これほどまでに爆発的な盛りあがりを予感させる夜は、VISIONといえども少ないはずだ。ベテランから若手まで、あらゆる世代のアーティストが熱い競演を繰り広げるフロアで、身も心も完全燃焼したい。



TOMOYUKI TANAKA Regular Party Finally Comes Back!
"HYPER SOCIETY" is the only regular party of TOMOYUKI TANAKA in Tokyo. Finally, we will have the first event in 2014. So many people has been waiting for this. Plus, this will happen in golden week. So, this party is gonna be the very special one. SUPER STAR DJs such as VERBAL and ILMARI will also perform. We have the feeling this party is going to EXPLODE!!! Don't miss it!!!